Keeping your household running smoothly means keeping on top of the laundry. The constant churn of school clothing and work uniforms means that there can be a pile up quickly. With the BIWDWG7148 washer dryer, you can not only clean and dry your laundry, but also provide your clothing with the care it needs.

This integrated model features the brand's 6th SENSE technology. By using intelligent sensors this model assesses just how dirty your laundry is, the cycle then automatically adjusts to your needs. This not only reduces waste of water or detergent, but also gives the ideal balance between energy consumption and retaining excellent results. In addition, Whirlpool's sensors detect the temperature and humidity within each laundry load, achieving super-soft fabrics whilst giving up to 50% reduction in energy consumption.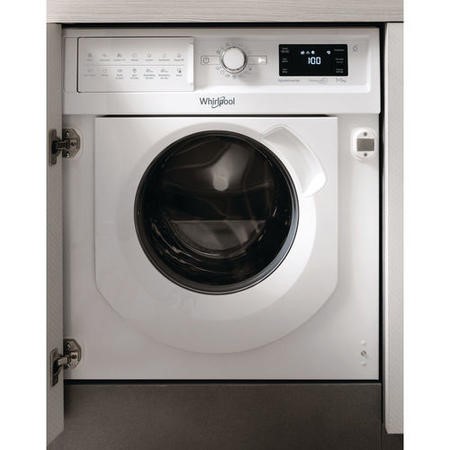 FreshCare+ means that your clothing is always fresh and easy to iron once the cycle is over. Combining steam injection and light tumbling actions, your clothing never develops the damp smell that occurs when washing is left for a while before removing. This means freshness is guaranteed for up to 6 hours, avoid creasing and making ironing that much easier.

For the brightest of fabrics, this washer dryer features Colour 15. This delicate cycle washes at just 15°, making it perfect for preserving the bright colours in fabrics. In addition, the dedicated wool programme is designed to give absolute care for wool and other delicate fabrics.

When you have clothing you need back and ready to wear as soon as possible the 45 Minute programme is perfect. Giving you the ability to wash and dry 1kg laundry in less than an hour, giving you the same excellent results you deserve in even less time.
To find out more about the Whirlpool BIWDWG7148 Washer Dryer contact us at T. J. Butler (Electronics) Ltd, with flexible delivery options in the Flintshire area. Call us today on 01244 823774, or if you wish to find out more about the BIWDWG7148 Washer Dryer visit our website for more information.