Highly efficient and boasting plenty of capacity, the KS36VBW3P tall larder from Siemens will help keep family dinner time stress-free and your kitchen looking stylish, thanks to its white finish which will suit any kitchen.
Aside from the striking appearance, the KS36VBW3P also has a wide range of innovative features which will keep fruit and vegetables fresher for longer and give you the brilliant fridge interior illumination you need to see everything you have, properly.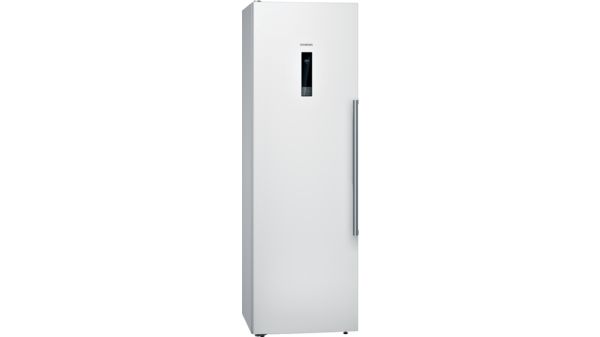 Smart Storage
If you're looking for a fridge with a wide range of smart storage solutions, the KS36VBW3P is a perfect example.
Offering safe storage for large bottles, small bottles and cans, the removable stainless steel bottleRack is wave-shaped to stop them from rolling back and forth and breaking.
To keep your food fresher for longer, the KS36VBW3P also includes the superCooling and hyperFresh functions.
Adding warm or new food into the fridge can sometimes lead to an increase in the internal and food temperatures. This is where the superCooling feature helps by ensuring fast and safe cooling of food added to the fridge, without affecting the temperature of existing food.
HyperFresh also enables you to store different foods in optimal conditions. Simply select the right temperature and humidity for the different types of food stored and hyperFresh will maximise the freshness and taste, therefore reducing food waste.
If you have a large family, the KS36VBW3P is a perfect choice, as with a 346-litre capacity, you'll be able to store 18 bags of shopping, easily.
Helpful Ergonomics
For added convenience when restocking food, the glass shelves in the KS36VBW3P can now be pulled out to the middle on profile rails. Therefore, this will give you an optimal view over everything and nothing will be hidden - also making this feature perfect for when you're writing your weekly shopping lists.
These shelves are also easily slid and are tilt-proof, so you have the added peace of mind that they can be pulled all the way out - even when they're fully loaded.
High-quality, robust glass also makes these frameless shelves even stronger and easy-to-clean. So, if something happens to tip over, the spillage will be contained and won't spill into the rest of the refrigerator compartment.
As well as being able to pull the shelves out up to the middle on profile rails, telescopic rails allow you to completely remove the drawers if needed. This will give you a better overview of all food items.
Another handy feature to help make life that bit easier, is the easyLift door shelves. In the KS36VBW3P, the height of the door shelves can now easily be adjusted, even when they are full. Therefore, this will let you easily organise the inside of the door according to your exact needs.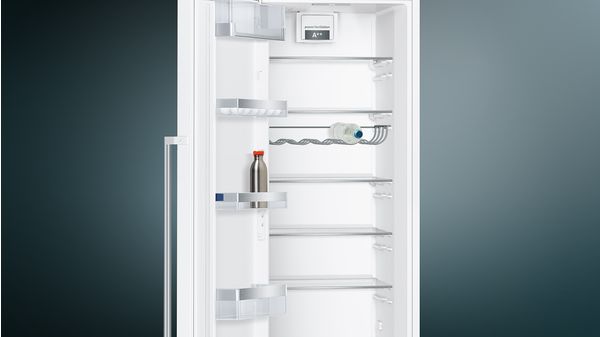 Making Life That Bit Easier
The KS36VBW3P Fridge also has new integrated long-lasting LED lights which fit flush on the side walls and ceiling of the fridge, illuminating the interior uniformly so you can see everything inside, perfectly. LED lights use an outstanding 90% less energy than the conventional incandescent bulb and last around 25-30 years.
Also featured on this model is the multiAlarm system. This system will notify you both visually and acoustically when the temperature in the fridge rises, which can happen for example if the door is left open.
Finally, the KS36VBW3P also has an energy rating of A++, to help you not only store an outstanding amount of food but also save you money on your energy bills.
Selecting the best fridge that works with your kitchen is just one piece of the puzzle, getting great customer service and delivery options in Flintshire is also essential. At T. J. Butler (Electronics) Ltd you can get the Siemens KS36VBW3P Fridge with great service and a guaranteed excellent price, so for more information visit our website or call us today.