If you truly enjoy food, you likely also enjoy cooking at home. As the endless storms of February look set to continue into March, while you won't be appreciating the weather outside you can spend more time inside honing your culinary skills. You can spend your time mastering one technique in particular or even refining down your signature recipe to be even tastier.

Improving your cooking skills requires excellent resources firstly. With the wealth of knowledge available online nowadays you can choose the format that works bests for you, including visual breakdowns to full-length YouTube videos. In order to get great results however you also need fresh, delicious produce and also the appliances to do the job.

In this handy review from T. J. Butler (Electronics) Ltd, we run through everything you need to know if you're planning on upgrading your kitchen with a new hob with the NEFF T48PD23X2 hob.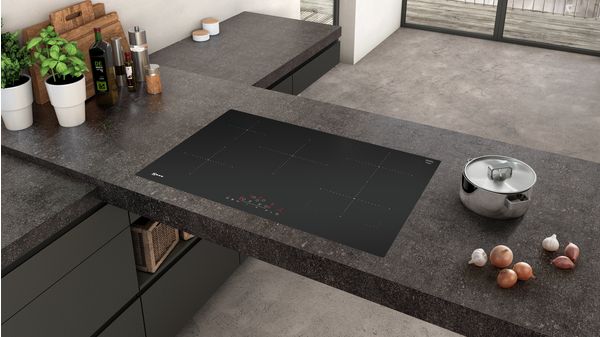 The brand is well known in culinary circles for being created with cooking in mind, first and foremost. In addition to this NEFF is created with the build quality you associate with German brands, which you also see in this latest NEFF hob.

Adding a sleek, signature style to any home, this induction model is finished in black ceramic glass. With 5 hob cooking zones, you get the flexibility to cook multiple dishes at multiple levels of intensity. By heating the pan directly even with a hob with this much power never wastes heat. Even if the 5 individual zones are not enough, for example with larger pots and pans, you can use the handy Combib induction technology. This combines two zones at once with the same level for even heat distribution and quick adjustment of multiple cooking areas.

For flexible cooking, there is also PowerMove.This turns the cooking zones into three distinct areas depending on your needs, at the front of the hob for the boil, then moving backwards simmering and keeping warm. This means you don't even have to use the hand Touch Panel controls to adjust the heat when using PowerMove.
To find out more about the T48PD23X2 Hob contact us at T. J. Butler (Electronics) Ltd, and for information on our flexible delivery options in the

Flintshire area

. Call us today on 01244 823774, or
if you wish to find out more about the
T48PD23X2 Hob
visit our website for more information.