Making the use of the space available to you is key to getting the best from your home. When it comes to storing your food this is especially important. Keeping your produce fresh and tasty for as long as possible means having a fridge that keeps everything at an optimal temperature. For most home cooks a great fridge freezer is a given, however, what if you have a spare room or the need to store extras?

For rooms outside the kitchen, or for smaller homes like flats, an under-counter refrigerator is a fantastic investment. Compact and designed to integrate seamlessly, a built-in configuration ensures that the aesthetic of your room is never compromised.

If you're looking to invest in an under-counter fridge that's built to last then NEFF is an excellent choice. As a brand they certainly live up to the high standards we place on German brands, with a build quality that is unparalleled in the appliance industry. In addition, NEFF is world-renowned as being a company that puts passionate foodies at the forefront of everything they do, with their unique innovative features.

In this review from T. J. Butler (Electronics) Ltd we cover everything you may need to know about their latest under-counter refrigerator, the K1514X7GB.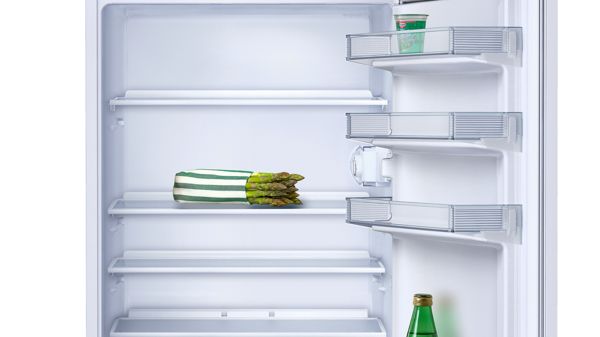 Keeping Your Food Fresh
Providing over 150 litres of capacity, this fridge gives plenty of storage options even with it's smaller form factor. The NEFF has dimensions of 88cm H x 56cm W x 55cm D meaning under the shelf spaces and smaller spaces can be utilised with even more efficiency. That impressive capacity is made even more flexible with the 4 adjustable shelves, meaning each of the glass ledges can not only be configured to your will but also removed for easy cleaning.

Storage is even more manageable thanks to the removable door shelves. Created in tough plastic, each of the door bins can be removed to suit you, and to make cleaning as easy as possible. For keeping fruit and vegetables in the tasty condition the NEFF K1514X7GB has FreshSafe. This unique drawer is designed with keeping your food as delicious as possible for as long as possible. On average added items last up to 3 times longer than a traditional fridge drawer, by adjusting the internal temperature and humidity to better preserve your shopping.

Even looking for a midnight snack is made dead easy, with the bright LED internal light. It's even super-efficient when consuming energy, just like the rest of the refrigerator. In fact, keeping your food fresh could hardly be lighter on your wallet, the K1514X7GB is rated A+ for energy consumption meaning the high levels of performance aren't compromised when it comes to paying your bills. When it comes to running noise the NEFF continues it's class-leading performance. At just 31 dB even installing the refrigerator in smaller flats will never cause issues.
To find out more about the K1514X7GB contact us at T. J. Butler (Electronics) Ltd, and for information on our flexible delivery options in the

Flintshire area

. Call us today on 01244 823774, or
if you wish to find out more about the
K1514X7GB Fridge
visit our website for more information.