Cooking at home is a guaranteed way to pass time, especially this February when we have been rocked by storms every weekend. If you like entertaining guests then culinary skill is also invaluable. As you build up your ability on a signature recipe for a future dinner party you will no doubt be rewarded with a delicious meal. However, when you practice your main course you may also found you are left with something that is much more unwanted. The steam, smoke and odours all add up to create a less than comfortable experience in the kitchen.

When it comes to cooking with guests in the home residual smells, in particular, can ruin the atmosphere of the night. Even if you are cooking at home alone, or for the family, odours can quickly stick to fabrics and embed themselves for days to come. How do you avoid those scenarios? You should look to one of the most underrated appliances in your home, your cooker hood.

Often seen as little more than something to add style to your kitchen, the hood is crucial in your cooking space to extract, filter and remove any unwanted steam, smoke or smells. Combining this important functionality with a discreet, slick style is the I95CBS8W0B from NEFF. Long known for creating appliances that are loaded with handy features, NEFF is designed firstly for those that love cooking. In this handy review from T. J. Butler (Electronics) Ltd we run through everything you could need to know about this latest ceiling cooker hood.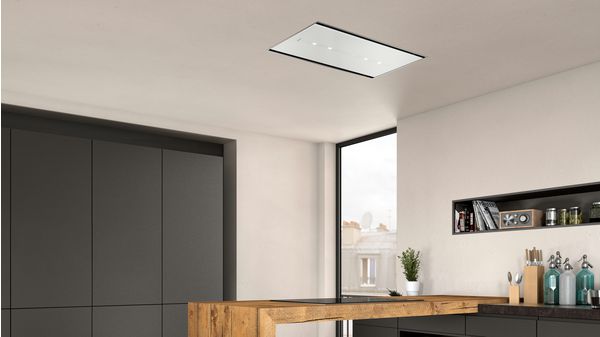 Once this model is fully integrated into your kitchen's ceiling you will barely notice it, until the impressive rate of extraction fully kicks in. This model can clear up to 459 cubic meters of air, meaning it's ideal for all but the very largest kitchens. Controlling the rate of extraction that is something you will rarely need to do with this hood, thanks to the innovative climate Control Sensor. You can be doing anything from boiling pasta to flash-frying a steak and the I95CBS8W0B will adapt to extract the perfect amount of steam or odours to clear the air quickly.

If you do want to manually adjust the level of extraction you have multiple options at your fingertips. Firstly with a compatible NEFF hob, you can tweak the airflow as needed, or using the Home Connect app on your phone. This Wi-Fi connectivity makes chopping and changing your settings seamless. This model even comes with a remote control to adjust everything from levels of extraction and the level of lighting. The in-built lighting above gives you instant illumination with energy-efficient LED bulbs.
To find out more about the NEFF I95CBS8W0B Hood contact us at T. J. Butler (Electronics) Ltd, with flexible delivery options in the Flintshire area. Call us today on 01244 823774, or if you wish to find out more about the I95CBS8W0B Hood visit our website for more information.