Lately, there's been plenty in the news to certainly make you want to turn off the TV. In times past there were a lot of ways to keep away from these worrying stories that have become commonplace in 2020. However, with a much-increased amount of time spent indoors, it can be hard to turn off from the stream of worrying information. One way to keep occupied is by spending time in the kitchen, with the focus on perfecting your next recipe to impress your family.

Getting creative with your food is a great way to not only make times like these more fun, but also to make food go further. Experimenting with easy to come by alternatives like canned goods and frozen vegetables can often produce results that are just as tasty, all while having longer shelf lives and lower costs. For getting unique, great-tasting results in the kitchen you need more than just luck on your shopping trip.

As well as high-quality ingredients and a recipe to make your own a home cook needs one more thing. A great appliance is another key to getting tasty results. Consistency and clever features means your food is always cooked exactly as you expect. But how do you know if your appliance is well equipped for real cooking?

NEFF is an ideal choice for anyone looking to upgrade their home oven. With a long-standing reputation for creating innovative features for appliances, combined with outstanding German build quality, their ovens should be top of your list. Whether you are looking to upgrade or replace your current model, NEFF's cooking range is worth exploring.

In this review for T. J. Butler (Electronics) Ltd we run over the key features and benefits in one of their latest models, the B47VS34N0B Oven. This oven contains a host of functions to make your cooking even better, including new, healthier ways of cooking.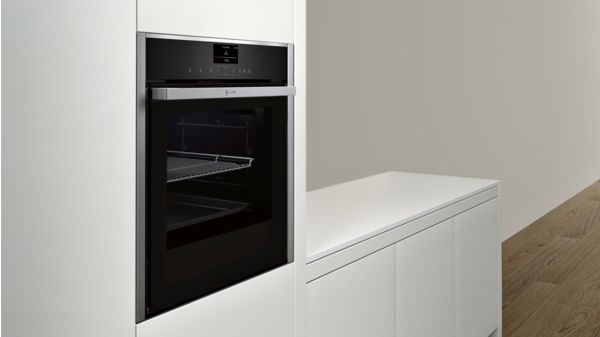 Steam Cooking For Healthier, Tastier Results
This NEFF oven packs a feature seldom seen in any home oven. With its VarioSteam technology, you can select steam cooking. This mode is purpose-built to inject moisture whilst giving a crisp, delicious finish. This unique feature is perfect for roasts, baking bread or as a healthy alternative to traditional conventional cooking modes.

Using steam cooking on the B47VS34N0B is as easy as topping up the internal tank and selecting the correct Steam mode for your needs on the Shift Control panel.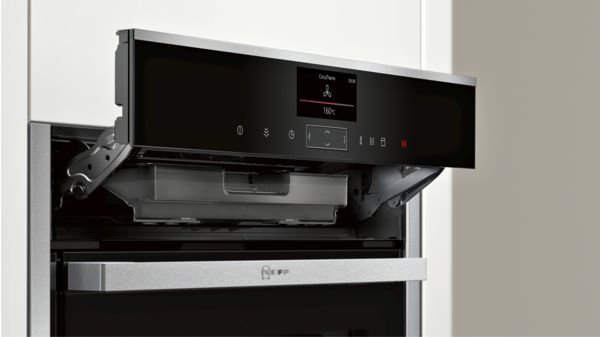 Flexible Cooking on Multiple Levels
At mealtimes, NEFF's CircoTherm system gives a fabulous layer of added versatility for home cooking. By channelling the oven's hot air to the back of the cavity then directly through channels at different cooking levels, CircoTherm wraps your food in its own pocket of air.

This means flavours that never intermingle when cooking. Three courses at once is no problem, as you can still preserve taste when eating. In addition, the NEFF also has two cooking modes as part of the CircoTherm feature. Firstly Intensive, which combines the direct heat of the CircoTherm with Bottom Heat to give a crisp finish. This makes it ideal for blind baking pastry or for perfect pizzas on a weekend.

For a more refined finish, CircoTherm Gentle is ideal. When cooking lighter dishes such as fish you want to avoid browning or forming any external crust. Using the traditional cooking mode will mean direct, constant heat which could cause a loss in flavour or unpalatable texture. Using Gentle residual heat is used instead which cooks the meat through completely whilst retaining the delicate texture you need for a perfect cooked healthy dish.

Adding and removing food is also made easy in the B47VS34N0B, with the iconic Slide&Hide door. Created with a unique hinge system, the cavity door slides easily under and into the oven, keeping it out of the way for adding and removing dishes. Slide&Hide is also a huge help when cooking a large roast as well, checking in on and rebasting your meat is simple and access is never awkward.

Then when it does come time to remove even the largest most awkward dishes the NEFF helps you even more. The Comfort Flex railings meaning trays can be fully extended out of the cavity for the easiest possible removal. This keeps your hand away from the heat can means carrying your piping hot meal a shorter distance to your countertop.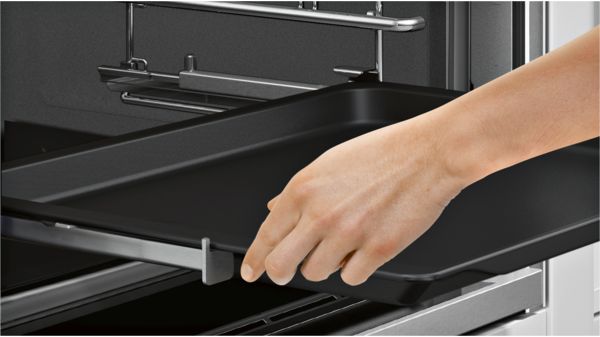 Cleaning Versatility
Many modern ovens contain at least one way for you to make the job of cleaning the interior easier. However, NEFF has taken it a step further with two dedicated ways depending on your needs in the B47VS34N0B. This means with this latest model the effort of removing baked in spills and food is all but eliminated.

Firstly the cavity walls are lined with NEFF's EcoClean ceramic coating. This helps break down any spills or rogue pieces of food you may come across, reducing the build-up of grime and gunk. This is made even easier when paired with BaseClean function, which helps eliminate build upon the floor of the oven. Activating BaseClean is as easy as adding some warm water and washing up liquid and letting the NEFF do the rest. Once finished all you have to do is give the bottom of the oven a quick wipe to remove residue.
To find out more about the B47VS34N0B contact us at T. J. Butler (Electronics) Ltd, and for information on our flexible delivery options in the

Flintshire area

. Call us today on 01244 823774, or
if you wish to find out more about the
B47VS34N0B Oven
visit our website for more information.