Long gone are the days of spending hours doing the laundry, especially with the Indesit range. Indesit is a brand known for providing innovative kitchen appliances for those who enjoy a dynamic lifestyle.
Keeping this in mind, the Indesit BWE 71452 W UK N washing machine certainly doesn't disappoint. Even the busiest households can get perfect results every time with this model, whilst also saving time, money and effort.
Impressive Technology
Thanks to improved rotations of the drum, the Indesit BWE 71452 W UK N washing machine will be more than capable of removing even the toughest stains, effectively. The rotation calibration, which is used during all stages of the programmes, therefore improving the detergent's cleaning potential. Every movement that your laundry will make is expertly designed to remove stains effectively, whilst also looking after your clothes to ensure that they last.
The inverter motor will also allow you to achieve great energy efficiency alongside these excellent results, and by producing fewer vibrations, you'll benefit from much quieter performance.
The Indesit BWE 71452 W UK N also comes complete with Indesit's Push & Go technology. All you need to do is simply press and hold the dedicated button for a couple of seconds, and your machine will automatically start a 45 minute 30c cycle that is suitable for both cotton and synthetics alike, no pre-treatment needed either!
The Water Balance Plus function will also adapt the amount of water used with each washing cycle's needs. This will ensure that there's minimal wastage, therefore saving you money in the long run on your bills.
Perfect for daily cotton, synthetic, colours and even delicate washes, the BWE 71452 W UK N also features a Rapid 30 minute freshen up for lightly solid items.
Digital Display
Your Indesit BWE 71452 W UK N will also be exceptionally easy to operate through the Digital Display.
This display includes a delay timer, which allows you to set the cycle to start at the most convenient time for you, including the middle of the night, when electricity is at its cheapest.
Your washing machine will also come complete with a Key lock feature. This is designed to prevent little hands from accidentally changing the settings on the control panel. No longer will you come back to an open washing machine door mid-cycle, or clothes that have been washed degrees higher than they should have been!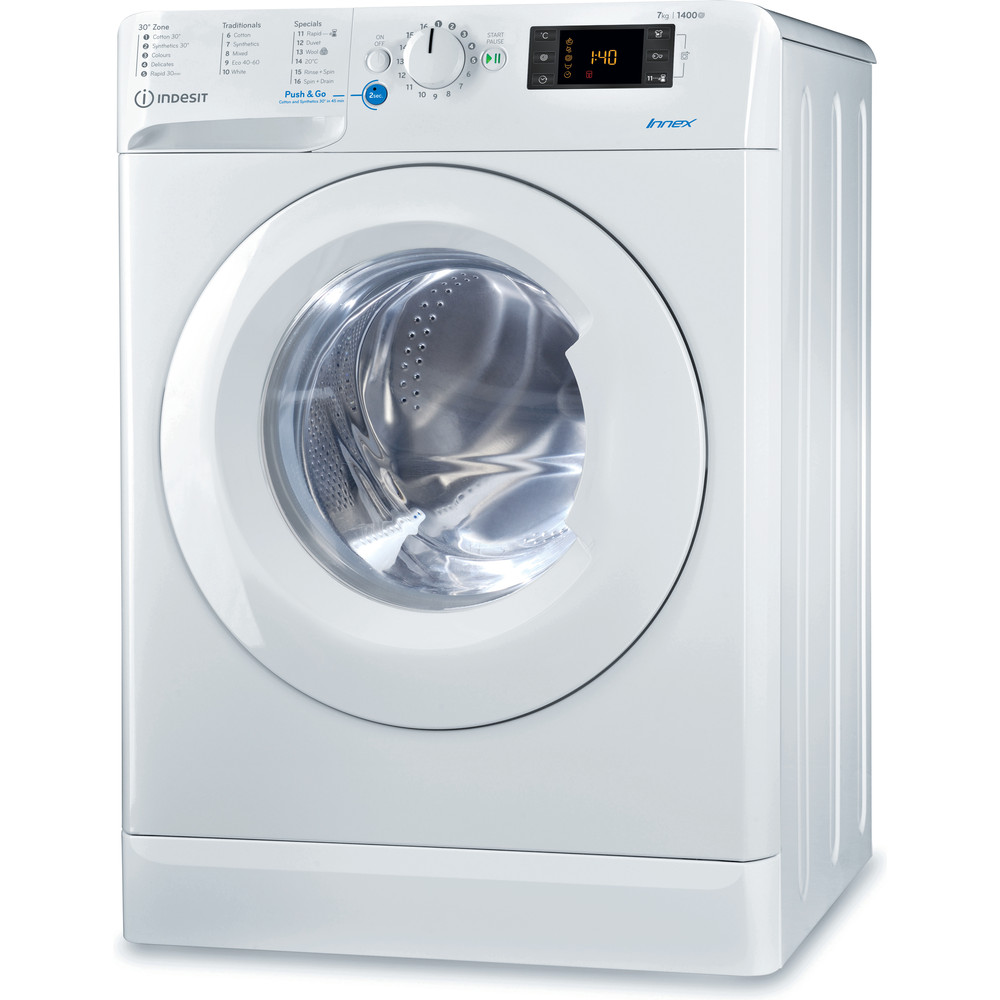 Exceptional Energy Efficiency
The BWE 71452 W UK N has also been awarded an A+++ energy efficiency rating. No matter what cycle you choose to wash your laundry on, you can rest assured that your washing machine is delivering a cleaning performance that is not only kind to your clothes, but also your household bills.
Order the Indesit BWE 71452 W UK N washing machine today from T. J. Butler (Electronics) Ltd. We offer fast delivery across Flintshire. Plus friendly, reliable customer service. Browse our range of washing machines online today.