Offering cooking capacity, thorough fan assistance, and fantastic easy-cleaning technology, the incredible IFW 6340 IX UK oven from Indesit is the perfect all-round oven for families who can't get enough of home-cooked food. With a stunning stainless steel design, this oven promises high-quality cooking in addition to great aesthetics in any kitchen design, be it modern or classic.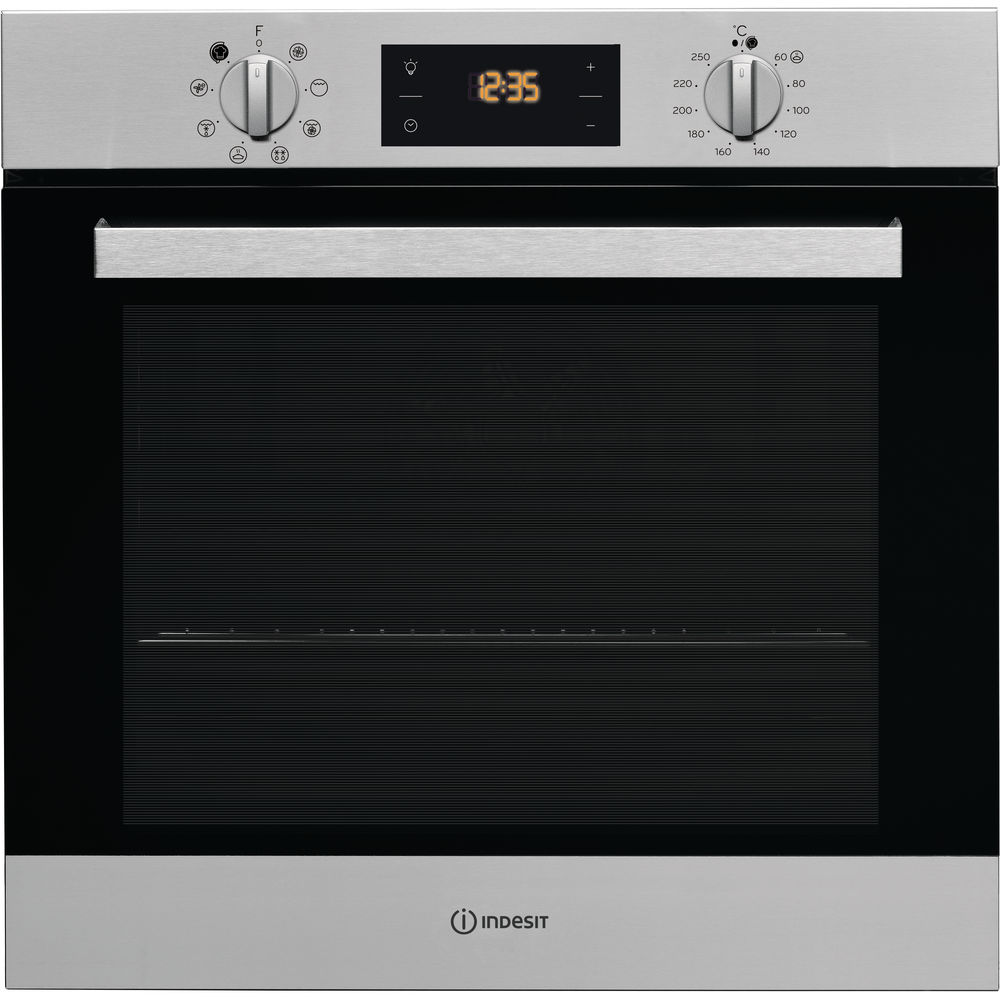 Turn&Cook
This innovational oven from Indesit comes with an incredible function called Turn&Cook, which provides magnificent results in just one turn. Turn&Cook is a highly intelligent function that automatically sets the cooking time and oven temperature for over 80 everyday family recipes, from pasta bakes to cakes, meaning you can rely on your oven for the food to be cooked efficiently. With Turn&Cook, there is no need to worry about over-cooking your food as the oven will automatically turn itself off after the food is cooked.
Easy Cleaning
The IFW 6340 IX UK oven from Indesit comes equipt with the manufacturers signature Tilting Grill, which pulls down and outwards, allowing much easier access to the roof of the oven. Once the roof of the oven has cooled down, cleaning the oven has never been so easy! Besides the ovens specialist Tilting Grill, the oven is also equipt with a Click&Clean system which allows you to quickly remove the oven door in two steps, allowing you to clean the oven door with no hassle.
Spacious Interior
Inside the oven is a whopping 66-litre capacity, allowing you to store large food items such as meat joints, or multiple dishes inside. This oven is ideal for homeowners who intend to cook for multiple people at a time or for families cooking various meals at the same time. If you are a homeowner living with children who may not eat the same food as everybody else. This incredible Indesit oven is ideal for families or cooking lovers preparing meals to please.
To find out more about this Indesit Oven or other Indesit Ovens contact us at T. J. Butler (Electronics) Ltd, with flexible delivery options in the Flintshire area. Call us today on 01244 823774, or if you wish to find out more about the Indesit Aria IFW 6340 IX UK Oven visit our website for more information.