Cook up a storm, with the Bosch Serie 4 MBS533BW0B Oven. This built in double oven contains all you need to whip up tea for the family or prepare a banquet for some distinguished guests. Available in white, the MBS533BW0B blends seamlessly into your kitchen, with retractable dial controls for a clean, minimalist look.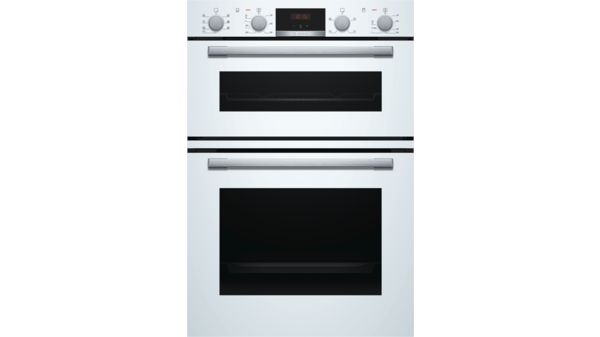 Easy to Use
Getting to grips with the MBS533BW0B is easy. The multifunction oven comes with easy to use dial controls and a red LED display. It also features a timer, so you can easily keep track of your cooking, without being stuck in the kitchen.
A straight bar handle on both the top and bottom ovens makes it easy to open and close each door.
The oven also comes with two Slim Universal Pans, perfect for smaller dishes. These pans can be placed side by side in the oven. So, you can cook two dishes at the same time, while keeping them separate. Handy if you're preparing a vegetarian or vegan option and don't want to mix flavours.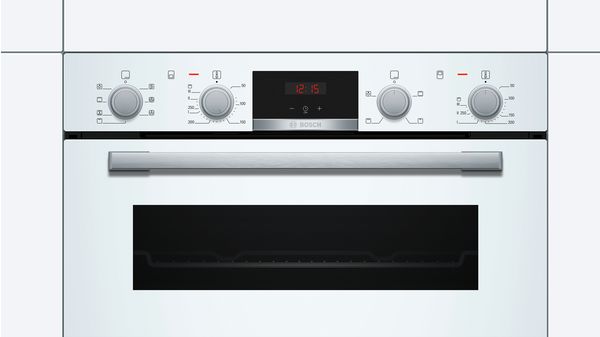 Brilliant Cooking & Baking Results
Whether you're a gourmet chef or a lover of simple home cooking, the MBS533BW0B has features to suit you. Thanks to 3D Hotair, you can prepare multiple dishes at once, without mixing flavours. The clever fan technology ensures even distribution of hot air throughout the oven cavity, across three levels. So, you'll get the same great results, no matter which shelf you're using.
Choose from five different heating methods in the main oven, including 3D Hotair, conventional top and bottom heat, Hotair grilling, Hotair gentle and full width variable grill. The main oven boasts a 71L capacity, capable of handling large dishes with room to spare. An interior light illuminates your food, allowing you to see clearly how it's coming along. While the control panel lock ensures your settings won't be accidentally changed.
The second oven adds an extra 34L of space to cook with. Featuring conventional top and bottom heating, a large area grill and small area grill, you have plenty of choice when it comes to cooking.
And, thanks to the oven's fast preheating, your food will be ready faster. For you and the family to enjoy.
Selecting a cooking mode or setting the correct temperature for your food is easy, with the clear dial controls, featuring guides to help you choose.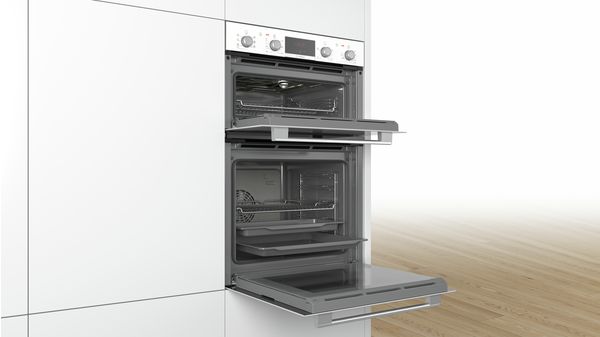 Effortless Cleaning
Thanks to a special coating on the rear wall of the oven, keeping it clean is practically effortless. Bosch EcoClean Direct uses a clever enamelled coating to stop dirt, grease and food residue from sticking or becoming burnt on. Just wipe with a damp cloth to remove dirt and leave your oven sparkling clean.
Buyers recommend the MBS533BW0B for its ease of use, easy cleaning and brilliant cooking and baking results.
To learn more about the Bosch MBS533BW0B Oven, including all its features, visit our product page for full details and specifications. Order yours in store, by phone or online from T. J. Butler (Electronics) Ltd. Best price guaranteed. Collect in store, or opt for fast delivery and full installation from one of our trained installers, anywhere in Flintshire.