Stock up on all your favourite foods with the Bosch Serie 4 KGN49XL30G Fridge Freezer. This stylish and spacious Inox-look freestanding fridge freezer comes with an A++ energy efficiency rating. So not only is it excellent value for money, but it's also super cost effective to run.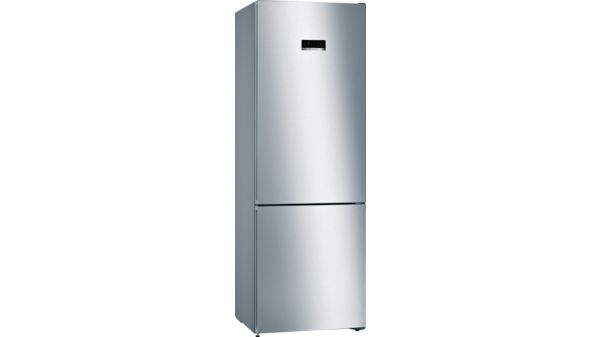 Store Food and Drink Easily and Flexibly
With four shelves, three drawers, a bottle rack and four door trays, you'll have more than enough storage space for your grocery essentials. In fact, with a total capacity of 435L, you can fit in over 22 bags of shopping.
And the storage is super flexible. Meaning you can store bulky or large items with no trouble. Thanks to VarioZone, you can adjust the height of your shelving - or even remove shelves altogether - to fit in bigger items such as cakes or jugs. And in the freezer, you have three deep, clear fronted drawers for storing your frozen goods. These can also be removed to create more space where necessary.
Each of the shelves is made from frameless, shatterproof safety glass. The easy pull out mechanism means that loading and accessing your food and beverages is simple. Plus, when it comes to cleaning, you won't have to stretch to reach the back of the fridge.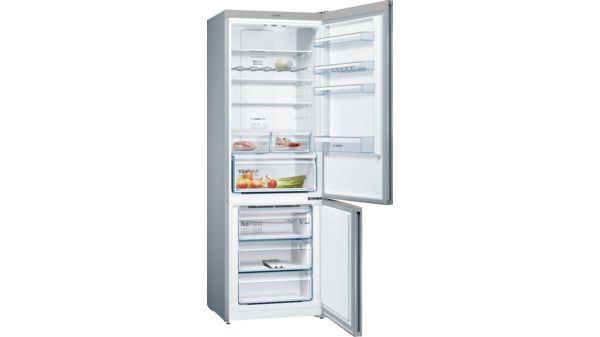 Enjoy Fresher Food that Lasts Longer
Avoiding food waste is paramount. Both for our purses and our planet. Thankfully, the KGN49XL30G comes with state of the art Bosch freshness technology, preventing food waste and keeping food fresh for longer.
With three VitaFresh drawers, you can make the most out of your fish, meat, fruit and vegetables. VitaFresh keeps contents at a specially lowered temperature, preserving freshness and food's rich nutrients. The KGN49XL30G gives you two drawers for storing fish and meat, plus one large crisper drawer, perfect for fruit and veg. The crisper comes with humidity control. So, you can store your greens in the perfect environment.
To lock in freshness, what you need is a consistent temperature. Thanks to FreshSense and MultiAirflow technology, the KGN49XL30G takes care of this for you. FreshSense smart sensors continually monitor and adjust the temperature settings, preventing any fluctuations that might compromise the freshness of your food. While MultiAirflow injects gentle currents of cold air throughout the fridge and freezer cavities, keeping food chilled and helping it retain its flavour better.
The KGN49XL30G also comes with SuperCooling and SuperFreeze technology. So, when you're adding new shopping to the fridge or freezer compartment, you can drop the temperature fast, stopping your existing items from defrosting or losing freshness.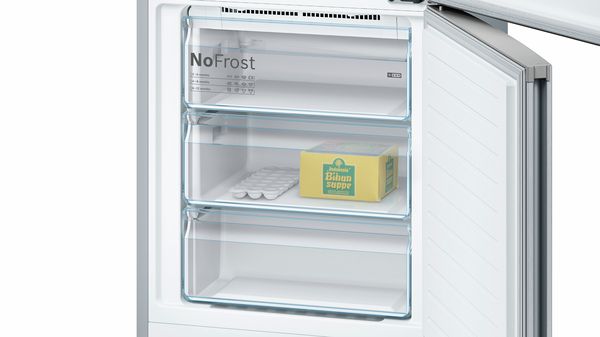 Super Convenient for Busy Homes
Featuring NoFrost technology, you'll never have to manual defrost your fridge freezer again. NoFrost automatic defrosting takes care of it. So, you won't have to worry.
And that's not the only thing you don't have to worry about. This appliance comes with Perfect Fit flexible installation. Meaning you can put it just about anywhere in your kitchen or utility room as it won't bump up against walls or furniture when opened.
Other features of the KGN49XL30G include long lasting, bright LED lights which expertly illuminate the fridge compartment. Plus a handy alarm that signals if the door has been left open or if there has been a malfunction. Saving you from a fridge full of wasted food.
Order your brand new Bosch KGN49XL30G Fridge Freezer online or in store from T. J. Butler (Electronics) Ltd. We offer delivery and installation throughout Flintshire. To learn more and to see product details, visit our product page, or give us a call.