Stop food waste in your home with the freestanding Bosch Serie 4 KGD36VI30G Fridge Freezer. Featuring advanced freshness technology, your food shopping will stay fresh for longer. Meaning you won't waste anything. Saving you money and helping out the planet at the same time.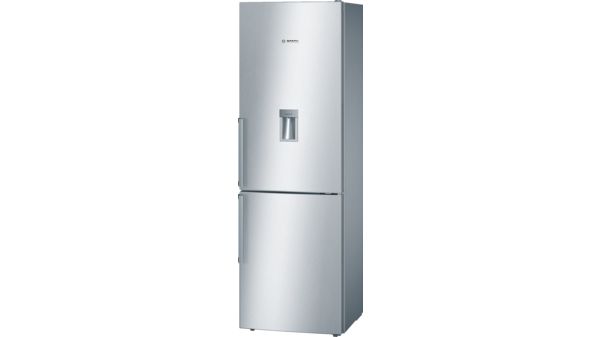 No More Wasted Food
With the KGD36VI30G, you won't have to worry about any more food going to waste. Thanks to Bosch's super advanced intelligent freshness technology, the food in your fridge stays fresher for longer. So, you can stock up on leafy greens and crisp salads that won't wilt early.
For your fish, meat, fruits and veg, there's VitaFresh. The fridge's two VitaFresh drawers offer optimum storage conditions for your produce. The VitaFresh 0ºC drawer uses extra low temperatures to keep your meat and fish fresh for up to three times longer. While the salad crisper VitaFresh box with humidity control gives you the power to set the right environment for your fruits and veg, helping them last longer, too.
The KGD36VI30G also comes with FreshSense technology. For food that keeps its flavour and texture while being stored. FreshSense sensors continually monitor and regulate the fridge to an even temperature. So, flavour, texture and nutrients stay locked in. And thanks to MultiAirflow technology, fresh air constantly circulates the fridge cavity, keeping everything lovely and fresh.
Down in the freezer compartment, you can take advantage of SuperFreeze to prevent food from defrosting when you're adding in new groceries. Simply activate SuperFreeze to get items quickly to temperature. Saving energy and stopping food from going to waste.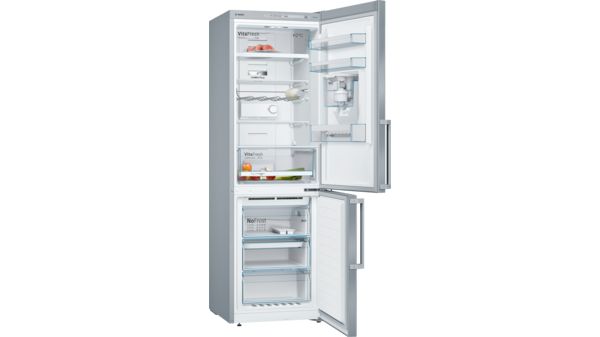 Superior Storage
The 319L fridge freezer boasts plenty of storage - enough to fit up to 17 bags of shopping. In the fridge, you get four safety glass shelves (two of which are removable for more efficient storage), two VitaFresh drawers, a dedicated bottle rack and three door trays. Not to mention a handy water dispenser for cool, filtered water whenever you fancy.
And in the freezer, there's plenty of space with three deep, clear fronted drawers. These drawers are also removable. Making storing larger items, such as a multi-layered cake or a tasty turkey, simple.
Other Helpful Features
The A++ energy rated KGD36VI30G comes with super convenient NoFrost technology - automatic defrosting technology that means you'll never have to manually defrost your fridge freezer again.
There's also a handy alarm, letting you know if the door has been left open or there is a malfunction. Plus, bright LED lights to clearly illuminate your fridge's contents, that will last the lifetime of the appliance. Finally, a reversible door means flexible installation, so you can install your brand new fridge freezer just about anywhere in your kitchen or utility room.
Order the Bosch KGD36VI30G Fridge Freezer in Inox-easyclean finish online or by phone from T. J. Butler (Electronics) Ltd. We offer fast delivery throughout Flintshire. To learn more about this or any of our other Bosch appliances, visit our product pages for full product details and specifications. Alternatively, you can contact us for further information.