Feed your family healthier, more nutritious meals with the superb Bosch Serie 8 HRG635BS1B Oven. This stylish built-in oven comes in a contemporary stainless steel finish, with an easy to use interface that gives you complete control.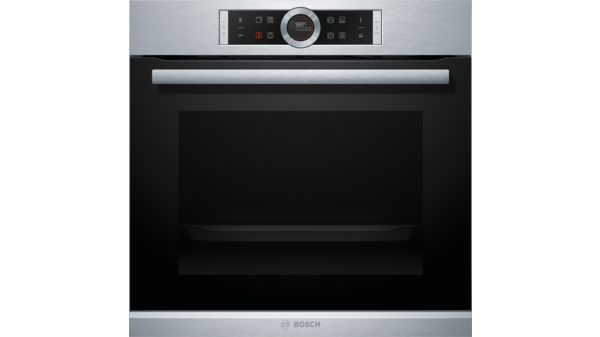 Enjoy Healthy, Delicious Meals as a Family
The HRG635BS1B with added Steam is perfect for helping families who want to cook healthier, more nutrient-rich dishes. Cooking with steam is proven to deliver better results. Not only does steam cooking prevent food from drying out, leaving bread and meat dishes juicy on the inside, but it also leaves a wonderfully crispy finish, sealing in flavour. Moist on the inside. Crisp on the outside. Delicious.
To use the Steam function, all you have to do is top up the oven's water container. The oven will automatically control the rest. So, you can enjoy those healthy, delicious meals every night of the week. Why not try baking some fresh bread? Or steaming up some tasty dumplings?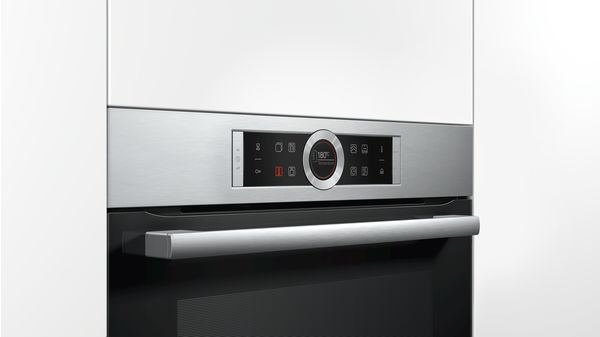 Experience Simpler, More Efficient Cooking
Featuring fast pre-heating, the HRG635BS1B makes cooking faster and more efficient. No more waiting around for your oven to get up to temperature. So, you can get on with more important things.
The HRG635BS1B comes with Bosch 4D HotAir technology. So, whatever level of the oven you're cooking on, your food will turn out perfectly. Constantly circulating hot air ensures even cooking throughout the oven's 71L cavity - across up to five shelf levels. There's a total of 13 different heating methods. So, whatever you want to cook, the HRG635BS1B can handle it.
Thanks to AutoPilot 20, preparing your favourite meals is a breeze. With 20 pre-set automatic programs, all you have to do is set your chosen program and the oven will find the right settings for you. No more guesswork. Just great results time and time again.
Did you know, there's even a Sabbath mode on this oven? Yes - for when you're observing the Sabbath rules, you can activate the special setting, keeping your oven on low. So, you and your family can enjoy warm, tasty meals together, without having to lift a finger.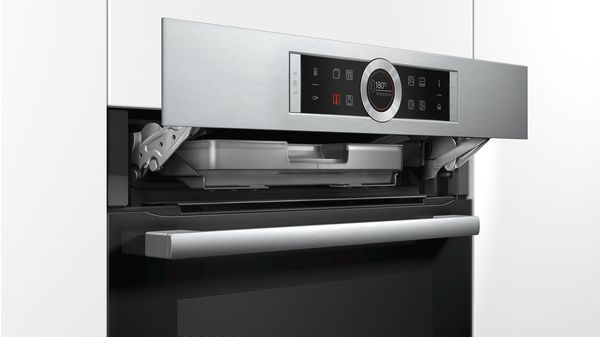 Save Time and Energy
The HRG635BS1B is also super easy to use. Featuring a clever TFT display with simple control ring, including full text and symbols for clear guidance. Giving you a full overview of your cooking and complete control.
And when it comes to cleaning your oven, you'll save so much time and energy. The HRG635BS1B comes with EcoClean Direct - a special enamel coating on the rear of the oven that effortlessly breaks down tough grease and food residue. Instead of spending hours scrubbing, all you need to do is wipe away smears with a wet cloth. And you'll have your oven looking as good as new.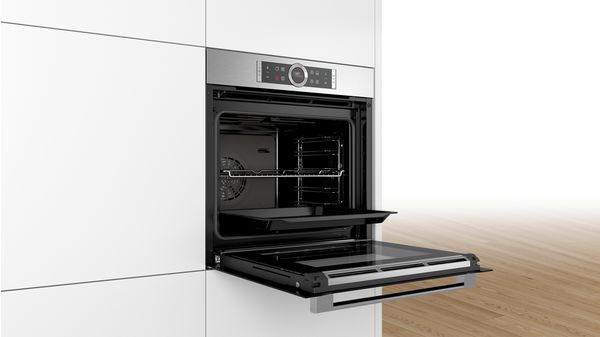 Order the Bosch HRG635BS1B Oven online or by phone from T. J. Butler (Electronics) Ltd. We offer fast delivery throughout Flintshire. To learn more about this or any of our other Bosch appliances, visit our product pages for full product details and specifications. Alternatively, you can contact us for further information.